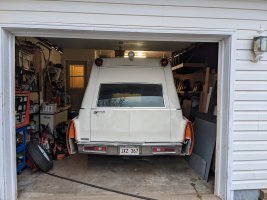 Only one little issue getting her in the garage. Removing all the interior including the driver side cabinets, the squad bench, the spare tire and everything else made the rear end much much lighter. This resulted in the rear of the car being about 3 in taller resulting of not being able to clear the rear roof ventilator.
I drained the air out of the shocks, got the tires down to 10 PSI and it still wouldn't clear. Finally I had to remove the ventilator altogether.
We're not going anywhere as for a while anyways as I still have a lot to do, but the main thing is I can now start working at putting her back together.