Good afternoon fellow PCS fans.
I would like to introduce myself. I have been a huge fan of classic autos. I have always wanted one to restore and to have one to enjoy. It has been a 12 year search to find something in my price range and something I could get my hands on. I found what seems to be a rare conversion. I was told by a someone over at Superior Coach company that they produced only a 120 for the year. The current location of the car is in the high plains of Texas. It is sitting in my drive way (the wife is soooo happy about that..not really)
May I present to a 1968 Pontiac Superior Ambulance. What you see is what you get. I am in need of wiring help and possible guidance on how to fix everything. The over all "bones" are great but the flesh needs help. Our plan is to fix it up right and possibly convert it to a show piece and use it for unique rides around town.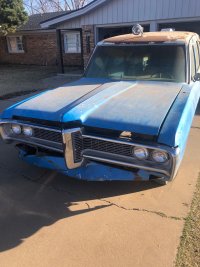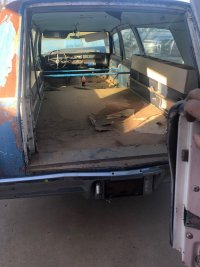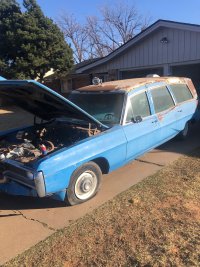 The good:
Not too much rust
No locked wheels
Starter engages
Transmission is not bound
All doors open/close with minimal effort
The Bad:
Wiring is shot
Motor is locked
Rat turds everywhere
Floors are gone( but can be fixed)