Administrator
Staff member
Super Site Supporter
The 2023 PCS International Meet will be held in Morgantown PA at the
Holiday Inn
and the
Classic Auto Mall
on August 8 - 12, 2023.
The room rate is $119 per night plus applicable taxes. Please use the following link to make your reservations. You can get the discounted rate starting the Saturday before the International Meet. Should you have any problems with reservations, please get in touch with me for assistance.
If you prefer to call by phone, you may use code
PCS
. When calling the hotel
610-286-3000, press "0"
and tell them you are with The Professional Car Society for the discounted rate.
https://www.holidayinn.com/redirect...PMID=99801505&GPC=PCS&cn=no&viewfullsite=true
We have initially contracted for 60 rooms, and I suggest that you book your room quickly while the room block is open. Please keep in mind that we are holding this International Meet in Conjunction with the Vintage Chevrolet Club of America, and they also will be staying in the Holiday Inn, so it is possible that the entire hotel might sell out quickly. Please read the cancellation policy of the hotel that is printed on the reservation link page.
Please note...
Reservation requests from your attendees received less than thirty days prior to your arrival date will be accepted on a space-available basis, at the higher of the contract rate or rate available at that time.
2023 PCS 46th International Meet Agenda and Registration are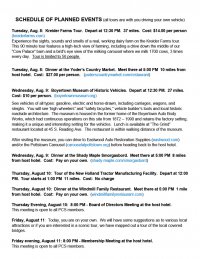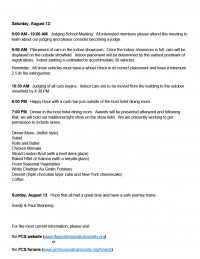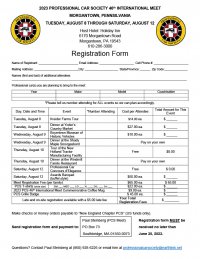 available below in PDF form for printing.