Super Site Supporter
Super Site Supporter
1961 Fleetwood 75 executive sedan there is no divider between the passenger compartment and the driver.
It has been stored since 2008 and it is currently not roadworthy, but it does start and run.
I replaced the rubber fuel lines and flushed the fuel system. The 4 tires are brand new and the starter was just rebuilt.
I also installed a new electric fuel pump. The original factory pump is still in place and may just need to be rebuilt.
This beast does start and it does run but not very well. It sounds like a misfire. it does stop the brakes work well. I have only driven it a couple hundred feet and the transmission does go into all gears but could probably use a little more fluid its a little slow on the go.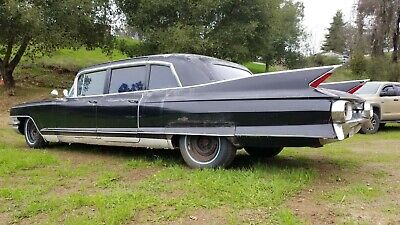 The fuel system was drained and the rubber lines were replaced. the transmission works but I don't know its overall condition. There is rust and there are a couple areas on the passenger side floor that will need to be replaced.